Images are representations only.
SF-1 - Stratafan™ Forced Convection Fan for Infrared Heaters
Brand:
Thermon, Inc.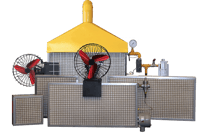 The Stratafan™ enhances the space heating performance of our industry-leading Cata-Dyne™ Infrared Gas Catalytic Heaters by adding forced convection capabilities, promoting uniform heat distribution in enclosed areas, and reducing temperature stratification and ventilation dead spots.

Immediate benefits of using a Stratafan with your Cata-Dyne™ heater include higher overall air temperature, lower humidity levels, and reduced condensation/ice build-up.

A unique combination of technical ingenuity and simple construction offer a rugged unit with long service life. The Stratafan™ is compatible with Cata-Dyne™ heaters of any size using our selection of mounting kits.
Features
Self-powered by a thermoelectric generator with no external power source required and few moving parts
Rugged, light weight, durable construction for long life
Even heat distribution reduces humidity and moisture condensation
Intrinsically safe for use in hazardous locations. Installed in conjunction with a Cata-Dyne™ WX or MKII heater
$617.90
CAD
Does not ship to US
Specifications
Agency Approvals
CSA: Class I, Divisions 1 & 2, Group D
Hazardous Locations, Certified to Temperature code T3C.